Free Home Inspection Checklists
Looking for free home inspection checklists? You found it here.
We will go inside to outside, room to room to help you score well with a real estate home inspector.
First, lets answer the question: "Do I need a professional home inspection to sell my home?" Yes and no. If you can find a cash buyer then no but if the buyer is going to obtain financing then yes. Sometimes you can arrange for the buyer to pay for the inspection. In other situations, the seller will pay for it.
So, lets get started.
Outside the Home
No evidence of standing water; no foul odors from septic system (if applicable); yard, trees, shrubs and walkways in clean condition; exterior structures (fences, sheds, decks) in good condition; garage door in working order; proper railings on any stairs/decks; driveways, sidewalks, patios and other concrete surfaces free of damage and sloped properly for drainage away from home.
Exterior of Home
Home appears level; windows and doorframes open/close properly and are free from damage/cracks (storm windows or thermal glass a plus); no visable cracks in foundation; no rotting of any exterior wood surfaces; no cracking in vinyl siding; no vines on surface of structure (a lot of people dont know this is a NO NO); exterior paint is in good condition; no stains on exterior surfaces (brick); all joints are caulked.
Click here to go to HUD's Free home inspection checklist PDF
Roof
Wood shingles: no mold or decay/rotting, no missing shingles; compostition roof: no curling, broken, missing shingles also No multiple layers; flat roofs: no obvious patches, no cracks and no evidence of improper drainage and must have tar sealing at flashings.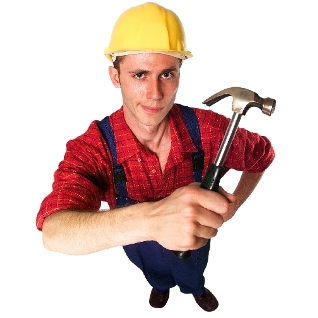 Attic/Basement/
Crawl Space
Attic: no signs of roof leakage, no evidence of decay/water damage; no vents from plumbing or appliances into attic; no electrical work damage; adequate insulation; adequate ventilation; accessible walking path to access pertinent features in attach.
Basement: (we dont have them here in Texas but I know some of you do) no evidence of moisture; where you can see foundation: no cracking or flaking; visible wood: no damage/decay; no evidence of insects; proper insulation.
Crawl Space: proper ventilation and insulation, no moisture damage, no inscect damage, insulation on plumbing and vent pipes.
Interior: bedrooms, bathrooms, living areas
All floors appear level; no stains or damage to surface flooring throughout home; working heating/cooling in each room; 3 pronged electrical outlets in each room;lights/ceiling fans and switches in working order; no cracks in walls; all doors/windows open and close properly; paint/paneling in good condition; no leaks in any plumbing.
Kitchen: all appliances in working order (including garbage disposal); working exhaust fan over cooktop; GFCI (ground fault circut interrupter) within 6 feet of sink; sink with proper drainage; cabinets working properly.
Bathrooms: proper drainage from sink, tub and toilet; no signs of mold, no signs of rust around faucets, tub/sink properly caulked, toilet is in working order.
Electrical/Plumbing
Electrical: All visable wiring in working order; electrical box/panel has appropriate number of switches for home, not overheating; no aluminim wiring.
Plumbing: visible pipes are free from rust, dripping and water damage; Water heater: no signs of rust, has proper ventilation, is off the ground, is producing hot water(between 118-125 degrees); if you have a well, the water must pass inspection.
Heating/Air Conditioning
Can feel heat/cool throughout home;air filters are clean; ductwork clean; asbestos free;no gas leakage/odor; appropriate number of flues for gas, oil, propane, wood and coal also flues are free of open seams and they are functioning properly
Safety Features
Do not neglect this all important step.
Smoke detectors (as required by county) but is a good idea to put one in every room; stairways solid and have proper railings; automatic garage door has stopsafe feature; carbon monoxide detector if you have gas appliances/heating anywhere in home
I hope these free home inspection checklists will help you prepare.

Back from Free Home Inspection Checklists to Preparing to Sell a House Page

Back from Free Home Inspection Checklists to sell-buy-owner.com