Rent to Own Houses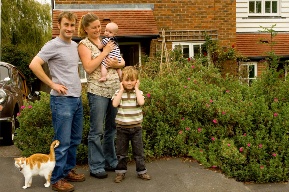 Rent to Own Houses:
If you are trying to decide to rent or buy, click here to read my article renting vs buying first.
Most rental homes do not outright advertise being a lease to own house but many property owners are open to consider such a tenant agreement.
Houses for rent by owner or through a leasing agent will provide the rent to own contract which is very similar to a traditional lease agreement with the exception of a clause to include the agreed purchase amendments.
If you plan to look for lease to purchase homes , you must stay current with your rental payments now and honor all the debt commitments you have. Property owners will likely run a credit check to make sure you are in good standing before agreeing to such terms.
In most cases, how it works is a percentage of your rent payments are held in "escrow" and considered down payment for the purchase. An example would be:
$1500/month rent dues with $100/month going toward down payment.In 2 years you have $2400 credit toward down payment.
You must still obtain financing for the home unless the owner has offered to do owner financing. If you go with a bank loan, they will require a separate down payment, and closing costs. In this case, the monies you had credited with the property owner simply reduce the mortgage amount, not your out of pocket expense.
List your home for rent right here! Then you can use the created webpage in your paper and online marketing. You will have your very own online rental listing. Please note this is NOT a MLS listing.
Have A House for Rent by Owner?
Tell us all about it!
Other Rental Properties Available
Click below to see contributions from other visitors to this page...

Duplex Living Not rated yet
This happened back in 2005 when I had started dating my girlfriend Lily. We were living with her roommate John in some downtown pit with a broken window …
Moving out on my own Not rated yet
When I was 21 years old, I moved out of my parents house. I had grown up in a very small town of only about 5,000 people, and I wanted a taste of the city …
Back from Rent to Own Houses to sell-buy-owner.com