How to Organize a Kitchen
For me its not how to organize a kitchen its keeping it organized with the kids and my schedule. I cook, bake and can veggies/fruits. So my kitchen is a busy work area.
Here are my tips:
1. Keep counters uncluttered. Leave plenty of workspace.
2. Keep pantry organized and once a month, discard expired items.Here is a photo of my makeshift pantry on a plastic shelf. It is still organized in the middle of my dining room, while my husband revamps our pantry.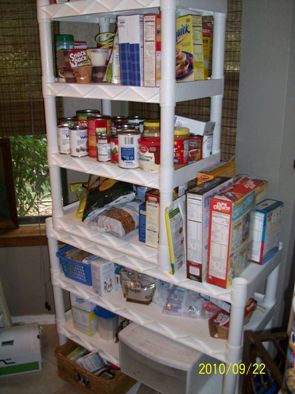 3. Keep refridgerator tidy. Once a WEEK, discard spoiled foods. **When selling a home, buyers will look in your fridge and pantry. YES, they will. A nasty fridge could literally cost you a sell.
4. BINS, BINS, and more bins. And a label maker. Keep small items like spice mixes or drink mixes in bins. Keep items that will often get messy (like flour) in bins. The dollar store is a good source for multiple size containers.
5. Consider buying kitchen storage cabinets from the like of ikea or container store if you are low on space. "a place for everything and everything in its place".
6. Purge and toss "extras" of everything: food, spices, cookware, bowls, etc. Do you really need 3 pie plates?
7. If you are not naturally organized then ask a friend to help or considering hiring a professional organizer.
8. Label the "new homes" for all your items, so you remember to put them back in their place after use.
9. Pack up seasonal items. Do not allow christmas or halloween items to take up valuable space. Use plastic totes to store them away in the garage or attic. Dont forget to label the tote too!
10. Stay caught up on dirty dishes.

Back from How to Organize a kitchen to Preparing a House to sell

Back from How to Organize a kitchen to