How to Organize Your Garage
How to organize your garage.
I'll be honest, this is my husbands area of expertise. So, I "interviewed" him for this article and here are his tips:
1. Twice a year take every moveable item out of the garage and place in the driveway or lawn.2. Go through items and sort into two basic categories: keepers and get rid of.3. Donate or sell all unwanted items immediately, do not store.4. Sweep out and or power wash the surfaces and shelves.5. Consider painting the floors6. Begin moving items back in, organizing as you go. BINS and shelving are must to organize. We use plastic shelving that can be power washed.7. If selling your home, you must have room for at least one car in the space for a car. NOT all stacks of junk.8. Consider sheetrocking/tape bed and painting walls for a finished look.
9. Install peg boards and hooks to organize small items/tools.10. Have a tool box with all items labeled for easy find.11. Have a shoe box (tote) next to the back door for muddy shoes.12. Keep a basket near the car to unload misc items from the car to take in the house.
Before and after pics of my garage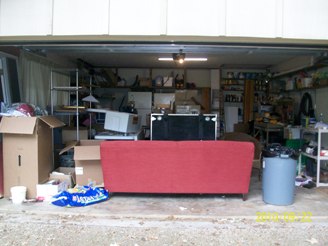 4 hours later......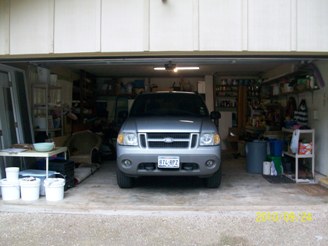 Here are some alternative storage solutions: 1. Outdoor storage benches (these work great if you have a carport or porch. 2. Bicycle storage racks (can get the bikes up off the ground to make room for other items) 3. ikea or container store have full storage systems. 4. Consider hiring a garage storage specialist. YES there are such companies who specialize in renovating/organizing this area.

Back from how to organize your garage to Preparing to Sell a House page

Back from how to organize your garage to sell-buy-owner.com mainpage