Renting vs Buying a Home
Trying to decide on Renting vs Buying a Home?
This article will discuss the pros and cons of each, hopefully helping you to decide which is better for you and your family : leasing a house or purchasing.
Pro's of Buying a House
1. Mortgage Rates are extremely low right now, which means less money out of your pocket.
2. The market is full of foreclosures, which means if you are willing to put in some sweat equity on repairs, you can get a lot of house for your money.
3. For the long term, real estate is a good investment. And if you choose the right home in the right neighborhood, you can make a good profit in years to come from the sale of the home.
4. Its YOURS: so you can paint what you want, put your flair in every room, the lawn ect. The only limitation to this would be if you live in a subdivision that has restrictions for the outside of the home. Yes some neighborhood associations restrict the can restrict the color of your trim, you window coverings even your landscaping. This is exactly why we live in a rural area.
Con's of Buying a House
1. Lenders are requiring 10-20% down payment for most mortgages, regardless of your credit score, due to the high foreclosure rate.
2. If you do have to sell in the near future, this is not a good time to sell a home. Only buy if you can hold on to the property for at least a few years. (Not a time for home flipping)
3. Home Maintainence is a chore. There is always something to repair or maintain, even with a new home.
4. Decorating and making it your own costs a lot of money. Window coverings alone are expensive. And don't forget about the expensive LANDSCAPING and yard upkeep.
Here is a really cool rent tool to help you decide payment wise what is best for you. Click here to go to the rent vs buy calculator now.
Pro's of Renting a Home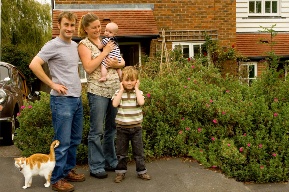 1. No long term committments.
2. Minimal monies down required.
3. Little if any home maintainence.
4. Can be an affordable way to live in a certain neighborhood.
5. Good payment history can boost your credit rating.
Con's of Renting a Home
1. Your rental payments are paying the owners mortgage note, why not be paying your own mortgage note.
2. Lack of privacy. Most states do require owners to notify leasee of need to access the home but regardless, they can come in the home.
3. Some do not allow pets, rv's, boats or other personal items on property.
4. Many owners do not allow you to personalize the wall color.
5. Some owners do not allow parties. I hope this article helped to clarify the answer to the question renting vs buying a home. As you can see, there is no cut and dry answer for everyone. Depending on your situation one or the other may be better for you, and ultimately the decision is up to you.

Back from Renting vs Buying a Home to Rent to Own Houses

Back from Renting vs Buying a Home to sell-buy-owner.com