Yard Projects
There are some yard projects you need to complete in order to sell your own home.
1. Trim trees: this can be a DIY task or you can pay a professional tree company to come out and do it for you.
2. Trim brushes
3. Remove all debris/junk from yard. NO piles of leaves, brush, trash. NOTHING.
4. Clean out and mulch flower beds. Flowers are a nice extra but at minimum the beds should be neat and tidy with a good 3-4 inches of mulch. You can often find free mulch from tree trimming companies or by doing a search on freecycle (yahoo groups) or craigslist.
5. Mow lawn and edge. Edging gives it that extra "wow"
6. Fertilize and water the lawn if during growing season.
7. Plant some seasonal flowers in pots and hang a few colorful hanging baskets. Does not have to look like a magazine but a little color goes a long way.
8. Remove all pet droppings and keep picked up while on the market. (consider a pooper scooper service)Check out these before and after photos. Take a look at how much better the cleaned up version is.
9. Adding some yard art or furniture can be a nice touch too. Like a swing or some ironwork.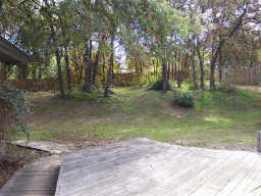 Have a vacant house next door while mile high grass? Call the owner. If they do not mow it, then you will need to mow it. Otherwise potential buyers might be scared off.

Back from Yard Projects to Preparing to sell a house

Back from Yard Projects to sell-buy-owner.com mainpage